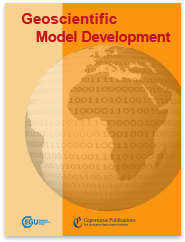 Executive editors: David Ham, Juan Antonio Añel, Astrid Kerkweg, Min-Hui Lo, Richard Neale, Rolf Sander & Paul Ullrich
eISSN: GMD
1991-9603
, GMDD
1991-962X
Geoscientific Model Development (GMD) is a not-for-profit international scientific journal dedicated to the publication and public discussion of the description, development, and evaluation of numerical models of the Earth system and its components. The following manuscript types can be considered for peer-reviewed publication:
geoscientific model descriptions, from statistical models to box models to GCMs;
development and technical papers, describing developments such as new parameterizations or technical aspects of running models such as the reproducibility of results;
new methods for assessment of models, including work on developing new metrics for assessing model performance and novel ways of comparing model results with observational data;
papers describing new standard experiments for assessing model performance or novel ways of comparing model results with observational data;
model experiment descriptions, including experimental details and project protocols;
full evaluations of previously published models.
More details can be found in manuscript types and the journal editorial (compiled by the executive editors).
"I believe that the time is ripe for significantly better documentation of programs, and that we can best achieve this by considering programs to be works of literature."
(Donald E. Knuth, Literate Programming, 1984)
"Essentially, all models are wrong, but some are useful."
(George E. P. Box, Robustness in the strategy of scientific model building, 1979)
GMD per-paper APC pilot 2021
To help authors know the article processing charges (APCs) levied for their final journal article already from submission, the EGU and Copernicus test a per-paper APC model for manuscripts submitted to GMD from 1 January 2021. The standard fee will be €1,600 net, independent of the article length. Please find
further information
about this pilot.








Notice on current restrictions
To show our support for Ukraine and in accordance with current European sanctions, we have introduced a range of measures relevant to our open-access publications process.
All fees for papers from authors (first, corresponding, or contact authors) affiliated to Ukrainian institutions are automatically waived, regardless of if these papers are co-authored by scientists affiliated to Russian and/or Belarusian institutions. The only exception to the waiver for Ukrainian authors will be if the corresponding or contact authors are from a Russian and/or Belarusian institution, in that case the APCs are not waived.
Due to restrictions for authors from Russian and Belarusian institutions that are necessary to comply with European sanctions, we recommend any authors from institutions in these countries to contact us on editorial@copernicus.org for more information.